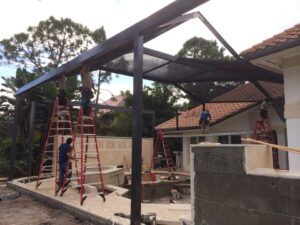 We live in a region that unfortunately attracts some contractors who don't play by the rules.  If you are in the market for a new pool enclosure or are planning to modify your existing enclosure (i.e. adding a picture window), you absolutely need to choose a reputable company to construct or modify your enclosure. 
Your contractor should be licensed.  You should use a local company with years of service under their belt and a reference list of satisfied customers.


The enclosure style that you choose should work well for your site.  There should be an architecturally engineered, site-specific drawing that has been approved by the local building department.  This is a financial investment on the part of your contractor prior to starting the project.  Many unlicensed companies do not take the time or spend the money to ensure that this step has been completed.  Unlicensed workers may say that they don't need to use an engineered plan or pull a building permit or have their work inspected because that they are only doing a repair or renovation, but the local authorities may disagree.  We, as homeowners and contractors, are legally obligated to follow the local building laws, and fines can be levied if the rules are not followed.  In the event the contractor cannot be found, the homeowner could be left holding the bag.


The last thing you want as a homeowner is to have structural issues with your new or modified pool enclosure, such as adding a picture window.  Do your research and make sure your contractor is using quality materials.  Also, if you live directly on the water your enclosure will need to withstand a different wind strength than a house constructed inland.  If, as a homeowner, your enclosure does not withstand wind in the zone in which you live, you could be held liable for damage if it comes down in a storm.


If you are in a leadership position in your Homeowners Association (HOA), you should insist that the neighborhood use a reputable contractor that is licensed, pulls the proper permits and allows the local building department to inspect the work.  Your HOA organization or you personally could possibly be held legally liable if a company constructs an enclosure that is not structurally sound.


You can call the local building department to see if a contractor has applied for and received a permit to construct an enclosure.  If you feel that an enclosure is not being built to the local building code standard, you can call your local code enforcement department.


Talk to your neighbors about who constructed or modified their enclosure and ask for a recommendation.  Your local building inspector or structural architect can also recommend a contractor.


If you want your job done properly, on-time and within budget so that you and your family can enjoy the enclosure for years to come, use a local reputable licensed enclosure company.