This screen enclosure space will leave you speechless.
The screen enclosures that we at Hendry Aluminum have installed are pretty impressive. They've got awesome views and they're super strong, but a lot of times it's what inside the screen enclosures that really steal the show. See one of our favorites.
One Amazing Screen Enclosure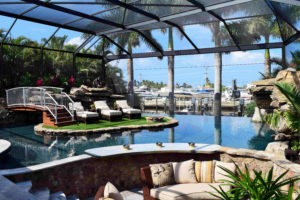 This particular screen enclosure housed a gorgeous custom-shaped swimming pool that had an infinity edge overlooking a boat-lined bayfront. A Picture Window framed an awe-inspiring view of the bay, boats, and the docks.
It included a sunken seating area that is on-level with the pool and a featured a television and fireplace, a sunbathing island that was accessible by an aluminum bridge, and a waterfall feature created out of natural slabs of stone.
The screen enclosure was filled with palms and other greenery to complete the look of relaxing by a tropical lagoon. The aluminum screen enclosure is the key to allowing this custom space to remain safe and pristine. Without, this amazing space would be filled with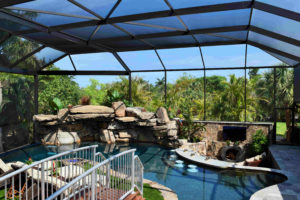 If you're interested in creating your own oasis under a custom-made screen enclosure, contact us at Hendry Aluminum for a free estimate.