One tool that helps us at Hendry Aluminum to create custom screen enclosures that compliment both your home and your landscaping is our 3-D CAD software. It's a state-of-the-art computer system called Solidworks. Read below what 3-D CAD is and how it helps us to make strong, attractive screen enclosures.
3-D CAD Explained
The acronym CAD stands for Computer Aided Design. It's computer software that is used by architects, manufacturers, engineers and more to create the specifications for models, building, and so on. Obviously, we at Hendry Aluminum use our 3-D CAD system to create the blueprints for our screen enclosures.
Once upon a time, blueprints were drafted by hand. Computers took over and created two-dimensional drawings, doing all the complicated math involved in the geometrics. Then, they started to create three-dimensional drawings, and the software became known as 3-D CAD.
Our Use of 2-D and 3-D CAD
At Hendry Aluminum, we use our Solidworks 3-D CAD software programs to create 2-D and 3-D drawings of custom screen enclosures and more. The drawings feature measurements and angles for the length, width and height of screen enclosures, the sizes of the beams and columns, and the placement of doors and gutters in the screen enclosure. The 2-D and 3-D drawings are used in the installation process so that your screen enclosure is a perfect match to your home's exterior.
The software create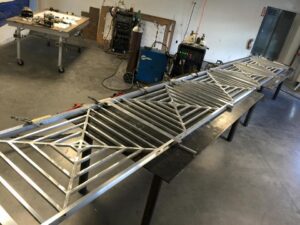 s drawings that are both two-dimensional and three-dimensional, and give us precise measurements. This allows us to design a screen enclosure for your home with all of your desired specifications.
We specialize in installing screen enclosures on homes with curves and uncommon angles. Our 3-D CAD software also helps us to fit your screen enclosure to your lot, especially for oddly-shaped lots.
Lastly, our 3-D CAD program is also used to create our specialty products like spiral staircases and more.
Our 3-D CAD program allows us at Hendry Aluminum to create a strong, quality product. Contact us for a free estimate today.