Discover all the MegaView Mini has to offer!
The MegaView Mini offers the features of a MegaView screen enclosure, but on a smaller scale. Once called the MegaView Lite, the MegaView Mini is the perfect screen enclosure for patios and smaller enclosure areas. Explore the features of a MegaView Mini below!
MegaView Mini Features
The MegaView Mini offers unobstructed panoramic views. They highlight your backyard golf course fairway, stretch of lakefront or swath of crystal sand beachfront without sacrificing the strong screen design.
The screen of a MegaView Mini is strong enough to stand on, but it will also repel golf balls and other small flying objects. It also keeps out mosquitos, biting flies and other insect pests, as well as unwelcome wildlife.
You'll know your kids, grandkids and pets are save inside your screen enclosure, enjoying the Great Outdoors without all the pests and annoyances!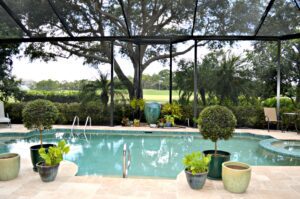 The MegaView Mini is available in white and bronze with an array of screen options. The styles available for you to choose from depend on a few factors. Your roofline, personal taste, and your budget are the primary factors involved in your screen design.
Ready to look into a screen enclosure for your home? Contact Hendry Aluminum today for a free quote.