Read about all the features that make the MegaView screen enclosure the best in the industry.
The MegaView screen enclosure is our signature enclosure, and there are many reasons why. Explore all the attractions of this premiere screen enclosure below, complete with photos.
Attractive Features of the MegaView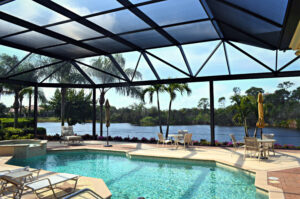 A Beautiful View. As the name denotes, a MegaView screen enclosure offers the largest expanse between posts, allowing you to enjoy as much of your outdoor surroundings as possible. Whether your view features a lake, golf course, beach front or other greenery, you will be able to enjoy an unimpeded view.
Protection from the Outdoors. With a MegaView screen enclosure, you're outdoors, but the bugs and other pests can't get to you. Enjoy your days and evenings outdoors without worrying about mosquitos, wasps, biting flies and other unsavory pests.
A Large Square Footage. As the biggest screen enclosure, you can fit many features within you MegaView screen enclosure, thus effectively increasing your home's livable space. This includes a pool and a spa, an outdoor kitchen, a fire pit area, and more.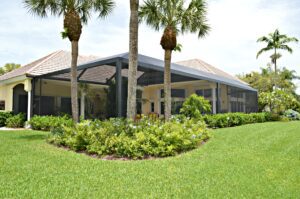 Safety and Security. A MegaView screen enclosure keeps your kids/grandkids and pets "indoors" in the screen enclosure and all the rest outside.
Ready to look at your screen enclosure options? Contact us at Hendry Aluminum for a free consultation today!