Read a client testimonial and see the MegaView screen enclosure pictures to go with it.
A testimonial or client review is of the utmost value when trying to determine the quality and workmanship of a screen enclosure installation company. Read one client testimonial for a Hendry Aluminum-installed MegaView Screen enclosure that really highlights where we shine, along with photos to show off the expert workmanship.
Client Review and Photos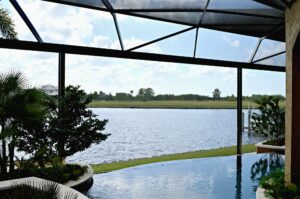 This MegaView was installed on a Central Florida home owned by Rob Bennett. Rob shared:
"Hendry Aluminum installed a MegaView screen enclosure on our pool. We have an infinity edge on our pool. With the MegaView screen enclosure, it looks like the pool just pours into the lake."
The picture to the right highlights the beautiful look that is created when blending the infinity pool and exterior lake.
Mr. Bennet also shared: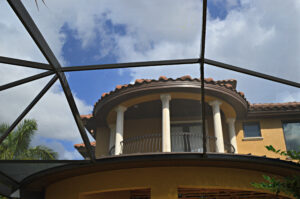 "Hendry engineered the enclosure to take care of the large amount of water that comes off our roof, to handle the curves of our house and to accommodate the unusual shape of our lot. The entire process was efficient and the workmanship was excellent. I recommend Hendry Aluminum for the highest end project and the most discriminating homeowners."
The intricate curves of Mr. Bennet's home can be seen in the photo to the left.
If you're ready to explore having a beautiful screen enclosure added to your home, contact the professionals at Hendry Aluminum for a free estimate today.